IT Instructions on Using TestNav for State Assessment
Using TestNav for State Assessment


TestNav is used for State Assessments and must be up-to-date in order to run properly
Updating the TestNav App


The most current form of TestNav is pushed by the IT Department, this is to make sure your student device is up-to-date!

1.
Make sure you have the correct version of TestNav. It should be labeled
'TestNav 1.10.2'
. If you do not have this program, or it looks like a blank page, please let your teacher know, and someone from the Tech department will manually download the program onto your computer.

a. Correct Version of TestNav 1.10.2:

i. Note: If you only see 'TestNav' or the icon for the program is blank, please let your teacher know, IT will need to download the correct version of the TestNav program.




2.
Check for Updates
and
Shut Down Laptop
before leaving for the weekend.

3.
Plug in your laptop
before you go to sleep the night before the test and make sure it charges. This will make sure that your laptop is fully charged for the day of the test.

Checklist for the night before the assessment:
o TestNav 1.10.2 is on Desktop
o Laptop is up-to-date
o Laptop is fully charged
o Laptop and Charger is in backpack by the next morning

Closing all apps the day of the assessment

All background programs must be shut down in order for TestNav to run properly.

1.
Log in to your laptop and let everything load. (Including all three of the Google pages and Microsoft Teams that normally begins during startup.)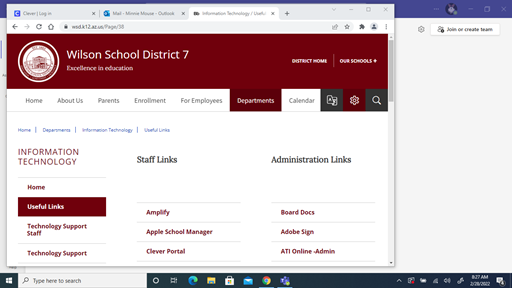 2.

Once it has loaded, close out of Google.


3.

In the bottom right hand corner of the screen, click on the little 'Up' arrow.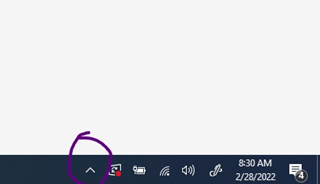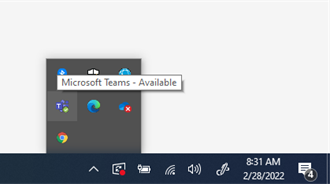 4.

Right click the Teams icon, then select 'Quit'.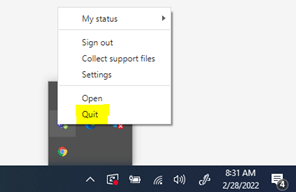 5.

Once that is done, you should have all background programs closed. You many now click the TestNav 1.10.2 icon.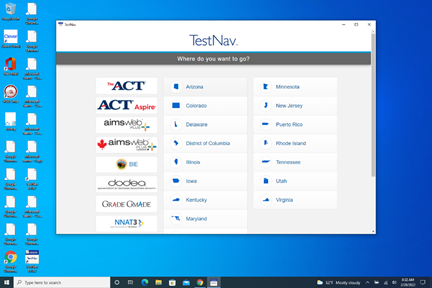 6.

Select 'Arizona'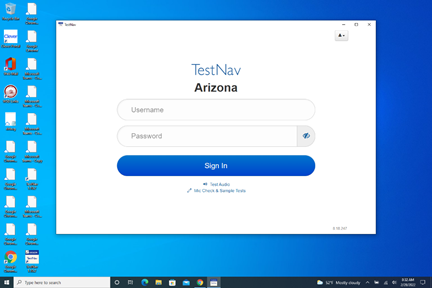 7.

Log in to your assessment using your assessment ticket!

Related Articles

Send Notifications Using Informacast

Sending Notifications using Informacast Send important notifications to all of district using Informacast Logging into Informacast through the App 1. Download the InformaCast Mobile app from your App Store. Apple Devices: ...

How do I reset my computer and email password?

Wilson School District #7 enforces strict password guidelines- outlined in in the "Digital User Account Protection Policy". To help enforce this policy Wilson IT has enabled "Self Service Password Reset" for our Microsoft 365 accounts. To reset your ...

Mimecast Security Awareness Training Portal

Mimecast Awareness Training Portal To view all current and previous Security Awareness Training Videos, visit your Mimecast Security Awareness Training Portal Login to Mimecast Security Awareness Training Portal Visit the WSD Links Webpage: ...

Mimecast Personal Email Portal

Mimecast Personal Email Portal To view all "Held" messages and "Blocked" senders visit your Mimecast Personal Email Portal Login to Mimecast Personal Portal Visit the WSD Links webpage: https://www.wsd.k12.az.us/Page/38 Click "Mimecast Personal ...

Adding Pear Deck to Microsoft Teams

Wilson School District has signed everyone up for a 30 day trial of Pear Desk. to participate in the trial, use these instructions. Setup Instructions: Open Microsoft Teams Choose a Team to add Pear Deck to (you can add it to multiple teams) Click ...